LINO LAGO + MARIE-CLAUDE MARQUIS | LET THEM EAT CAKE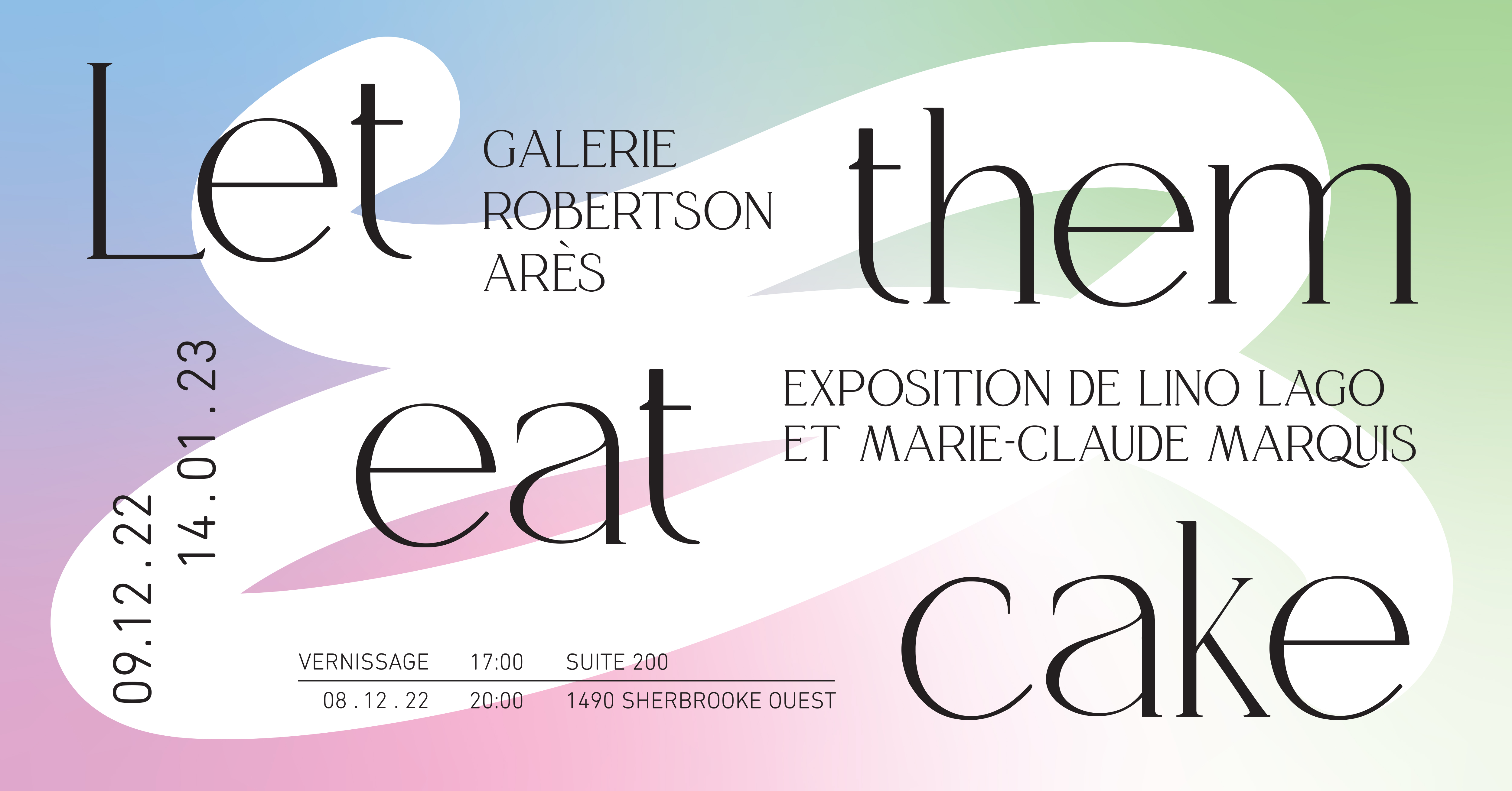 La version française suit.
On view from December 9th 2022 to January 14th 2023, "Let Them Eat Cake" presents recent artworks by Spanish painter Lino Lago and Canadian multidisciplinary artist Marie-Claude Marquis. Both artists establish a sociopolitical dialogue between current contemporary art trends and art history. With his "Fake Abstract" series of oil portraits, Lago addresses the artistic canon and the idolization of Old Masters through a contemporary lens. Marquis' vintage plates with hand painted typography and woven tapestries re-contextualize and revisit traditionally female artisanal techniques and objects through witty and charismatic messages about her personal experience as a woman in a modern world.
A vernissage will be held at the gallery on December 8th, 2022 between 5PM and 8PM.
Lino Lago
Lino Lago (b. 1973, Redondela) is a visual artist based in Spain. Lago's work displays a dialectical point of view about reality, contrasting abstract with figurative. His paintings have been displayed in galleries across North America, Europe and Asia.His artwork belongs in prominent collections such as of the Harvard Business School, the Flint Institute of Arts, MEAM Art Museum, Barcelona Fundacion Abanca Bank amongst many others. He was awarded the prestigious BMW Painting Competition award from the Queen of Spain. His work has appeared in prestigious international publications such as The New York Times Magazine, Architectural Digest, Vogue Italia and has been featured in the magazine "Fuera de Serie" as one of the strong names in which to invest.
Marie-Claude Marquis
Marie-Claude Marquis is an artist whose multi-disciplinary practice touches upon both graphic design and visual arts. She is inspired by nostalgia, pop culture, Québec identity and her own emotions, which she expresses with humour, a feminine touch and a colourful sensitivity. Marquis has mastered the art of reappropriation, giving found objects new meaning. By giving these objects a second life, she prolong their existence and reduce her own environmental impact. With whip-smart typographical interventions, the result of her work is humorous, sometimes irreverent, but always keeps a focus on aesthetics.
-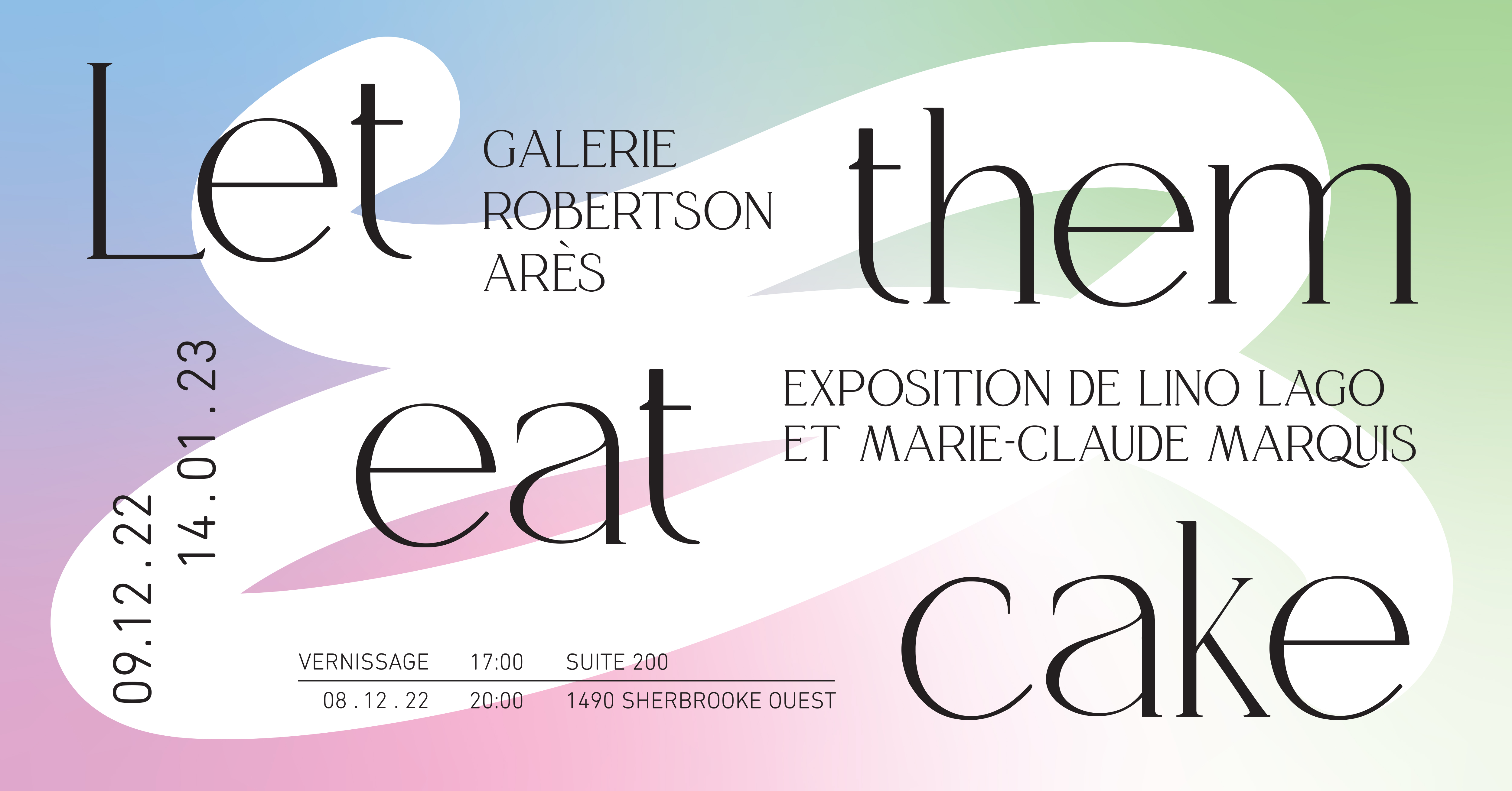 À l'affiche du 9 décembre 2022 au 14 janvier 2023, « Let Them Eat Cake » présente les œuvres récentes du peintre Lino Lago (Espagne) et de l'artiste multidisciplinaire Marie-Claude Marquis (Canada). Le duo établit un dialogue sociopolitique entre les tendances actuelles de l'art contemporain et les courants dominants de l'histoire de l'art. La série de portraits à l'huile de Lago, intitulée « Fake Abstract », aborde notre fascination avec le canon artistique et ses grands maîtres à travers une lentille contemporaine. Marie-Claude Marquis re-contextualise et revisite quant à elle des techniques et objets traditionnellement attribués à l'«artisanat féminin» par l'entremise d'assiettes vintage typographiées et de tapisseries encadrées sur lesquelles elle projette des parcelles de son expérience personnelle à titre de femme artiste dans un monde moderne.
Un vernissage aura lieu à la galerie le 8 décembre 2022 entre 17h00 et 20h00.
Lino Lago
Lino Lago (né en 1973, Redondela) est un artiste visuel basé en Espagne. Le travail de Lino Lago présente un point de vue dialectique sur la réalité, mettant en opposition l'abstrait et le figuratif. Ses tableaux sont exposés dans des galeries à travers l'Amérique du Nord, l'Europe et l'Asie et font parties de plusieurs collections importantes telles que la Harvard Business School, le Flint Institute of Arts, le MEAM Art Museum, la Barcelona Fundacion Abanca Bank et bien d'autres. De même, il est détenteur du prestigieux prix du Concours de peinture BMW de la Reine d'Espagne. Son travail apparait dans plusieurs prestigieuses publications internationales telles que The New York Times Magazine, Architectural Digest ou Vogue Italia, et est également présenté dans le magazine "Fuera de Serie" comme l'un des grands noms dans lesquels investir.
Marie-Claude Marquis
Marie-Claude Marquis est une artiste visuelle dont la pratique est multidisciplinaire. Touchant autant le design graphique que l'art visuel, son travail porte particulièrement sur la nostalgie, l'identité québécoise, la pop culture et ses propres émotions qu'elle exprime avec sa touche féminine et une sensibilité colorée. Marquis affectionne particulièrement la réappropriation d'objets. De cette façon elle peut leur donner une deuxième vie, prolonger leur existence et diminuer son propre impact environnemental. Principalement par des interventions typographiques, le résultat de son travail est humoristique, parfois irrévérencieux, mais toujours dans le grand souci de l'esthétisme.